While this policy has been around since May 2012, a recent bill passed in the Diet (June 2014) has added further immigration provisions to foreign nationals who meet certain criteria.
1. Points-based System for Highly Skilled Foreign Professionals
For those who are not already aware, this policy has been around since 2012. This leaflet from the Immigration Bureau of Japan provides good information on the policy. More information can also be found on the official website.  This target of the above policy are people who are pursuing the following type of activities in Japan:
advanced academic research activities;

advanced specialized/technical activities;

advanced business management activities;
Foreign nationals involved in the above activities can obtain preferential treatment in immigration if they obtain 70 points or more in the calculation matrix (refer to leaflet linked above).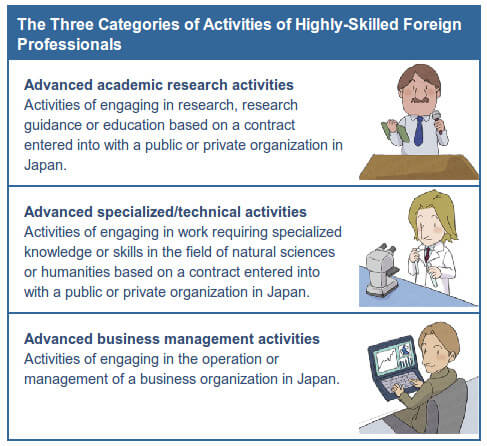 The perks include (and are not limited to):
permission for 5 years stay in Japan
fast-track for permanent residency
permission to sponsor parents in Japan
permission for spouse to work
permission to sponsor domestic worker
2. Revisions to Immigration Control and Refugee Recognition Act
And now, the "breaking news"! On 11 June 2014, lawmakers in Japan passed the bill revising the above-mentioned immigration act.
Under the new law, foreign nationals who qualify as highly-skilled labour may be considered for permanent residency after just 3 years of activity in Japan.
Comments